Vietnamese Steamed Yellowtail
Looking for a restaurant quality dish that comes together in just 30 minutes. This steamed fish, topped with lightly steamed julienned veggies and finished with an aromatic soy, ginger and garlic sauce, is the best solution to a fuss free weeknight meal for two. Just slice your veggies, flash fry your sauce, pop everything in the steamer and off you go. The best news.... you can eat this straight off the plates you steam them on. This dish is lovely as is, but we advise adding a side of sticky jasmine rice or perhaps some rice noodles. Yellow tail can be substituted for both hake and monkfish.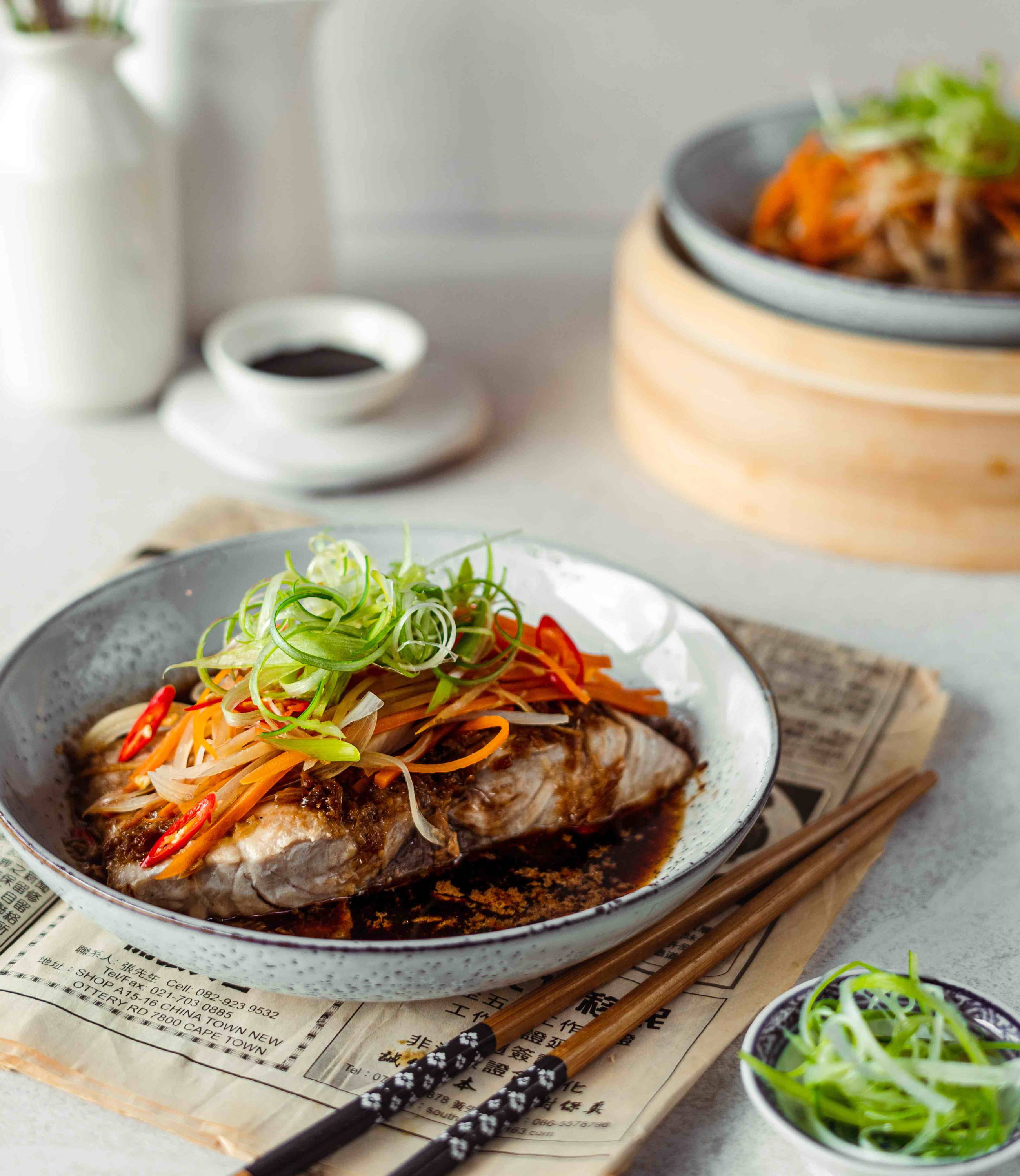 ---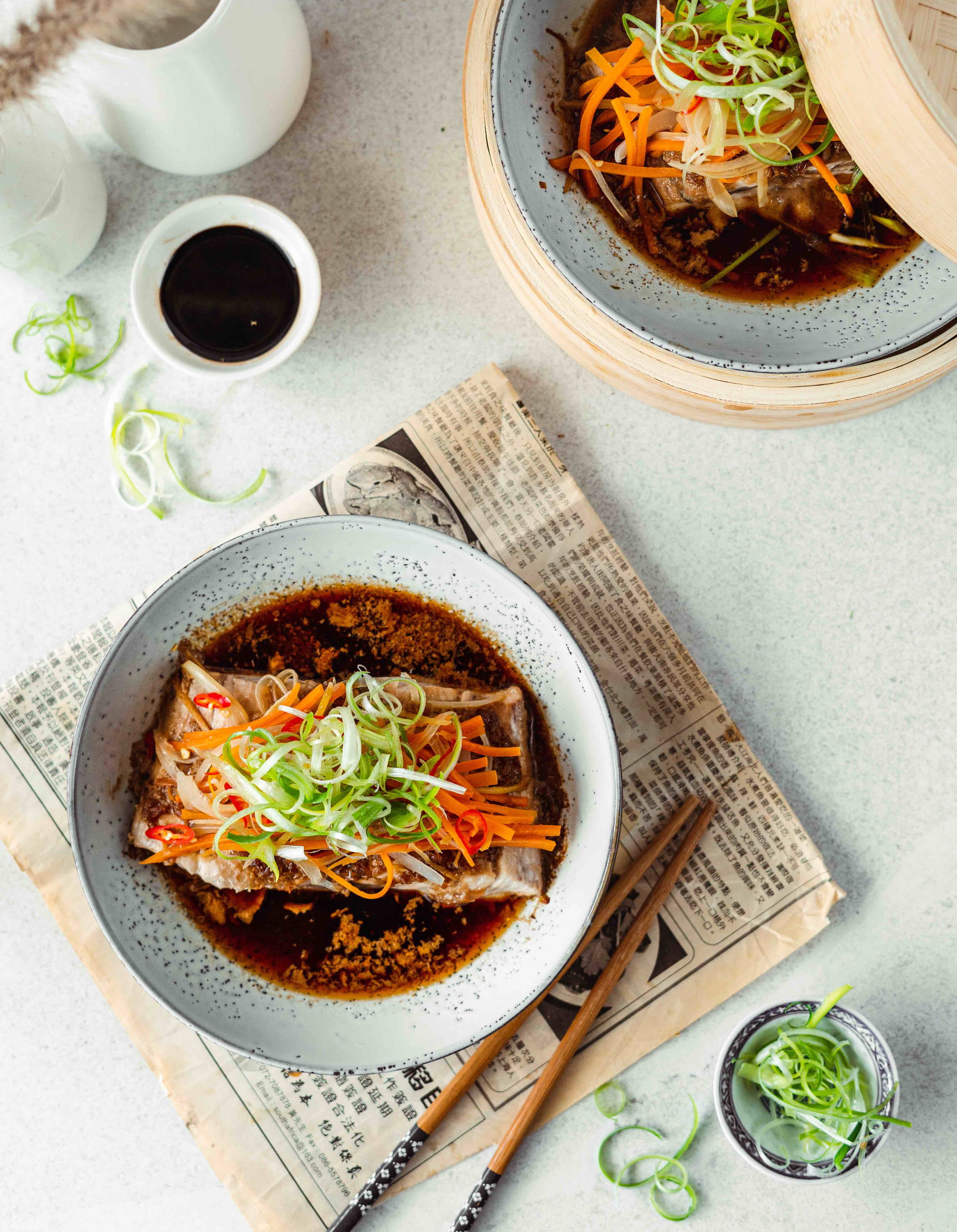 Ingredients
For The Steamed Yellowtail
2 300g Caught Online Yellowtail Fillets
1 Carrot, julienned into thin strips
3/4 Small Onion, julienned into thin strips
1 2cm Knob Ginger, peeled and julienned into thin strips
1 Spring Onion, julienned lengthways into long, thin ribbons
1 Chilli, thinly sliced *optional
For the Soy, Ginger and Garlic Sauce
1/4 Onion, chopped very finely
3 Cloves Garlic, Grated
1 Tsp Fresh Ginger, grated
6 Tbsp Kikoman
Soy Sauce Oil and Salt, as needed
---
Method:
Prepare your veggies as directed. Place a frying pan over a medium high heat. Add a drizzle of oil, then add all the ingredients for your sauce, except the soy. Stir fry the garlic, ginger and onion until just starting to colour, then add the soy. Remove the sauce from the heat and set aside until needed.
Place the fish fillets, skin side down in two shallow bowls. Cover the bowls with aluminium foil (or an upturned plate) and place them into a bamboo steamer, over a pan of simmering water, to steam for 4 minutes.
Chefs Tip: If you do not have a bamboo steamer, place a colander into a large pot so that it fits snugly. Fill the pot with about 2cm of water and bring this to the boil. Make sure your water doesn't come through the base of colander. To steam in this manner you will need to work in batches. Place one plate in at a time, cook as directed, then proceed with the next plate of fish.
After 4 minutes open up the steamer. Spoon your sauce over your fish and top it with the julienned carrot, onion and ginger. Place the fish back into the steamer (no cover needed this time) and steam for 5-6 more minutes, or until the fish is just cooked. Adjust this time if your fillets are smaller than 300g.
While the fish steams, place the spring onion into a bowl of ice cold water for 5 minutes. The water will cause the ribbons to curl into spirals. Once curled, drain off the water and set aside until needed.
Once the fish is cooked, remove the bowls from the steamer. Add fresh chilli, if using, and top the dish with your fresh spring onion spirals.