5 Sashimi Tuna Steaks (+-155g each)
Home / Shop / Bulk Deals / 5 Sashimi Tuna Steaks (+-155g each)
Sale!
5 Sashimi Tuna Steaks (+-155g each)
R 445.00
9 in stock
Product:
Our Yellowfin Tuna is caught in the South-East Atlantic before being hand filleted keeping only the very best pieces of the fish. These fillets are then put into a -60ºC freezer aboard the vessel shortly after being caught freezing them in under 10min to a chilly -60ºC which is how they will remain all the way through the value chain.
The -60ºC loins are received by our supplier and processed using one of two specialist machines in South Africa to remove any bloodlines and bones whilst never allowing the tuna to drop below its original -60ºC temperature leaving you with the only the very cleanest and best pieces of the fish.
The tuna remains at -60ºC in our sushi freezer until we carefully defrost your tuna the night before using the correct techniques. The following day we hand over your steaks to you as a truly fresh and perfectly preserved product with a beautiful deep red flesh that is best served as sashimi that will melt in your mouth.
Taste:
Our Yellow Fin Tuna has a medium-mild flavour with a firm yet extremely tender texture.
Sustainability:
Customer Reviews
Write a Review
Ask a Question
Filter Reviews:
tuna steaks
quality
Caught Online
experience
delivery
sashimi
some
portion
sizes
flavour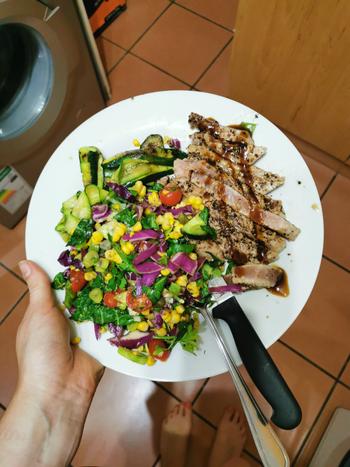 02/02/2021
I recommend this product
Good for grilling
I really enjoyed my experience with Caught Online, from ordering to delivery. However, I wanted to use this tuna in a poke bowl, and after defrosting in the fridge overnight it was clear it isn't the type to use fresh, so I grilled it instead. Still delicious.
Emma F.

ZA
Hi Emma Thank you for your order, that looks delicious! The colour of the tuna can sometimes change slightly though not ideal we will admit, however, the flavour and texture would still have been perfect! For next time, this is Sushi-grade tuna, we promise. Looking forward to delivering to you again soon! Kind Regards The Caught Online team
24/02/2021
I recommend this product
Top quality tuna steaks
I bought five tuna steaks from "Caught Online" and was blown away by the quality and portion sizes. Excellent, fresh, top quality, sushi-grade tuna steaks – great colour and texture and superb flavour. I have not seen better at any retail outlet ever. Highly recommended.
Renate L.

ZA
02/02/2021
I recommend this product
Delicious Tuna
We used some for sashimi and some for seared tuna steaks, both were great, good quality, will purchase again
Kenton S.

ZA
11/12/2020
I recommend this product
Sashimi Tuna steaks
Absolutely delicious!
Catherine H.

ZA
18/11/2020
Tuna Steaks
Excellent quality as always
Anisa S.

ZA