750g Medium Deveined Butterflied Prawns
Home / Shop / All / 750g Medium Deveined Butterflied Prawns
Sale!
750g Medium Deveined Butterflied Prawns
R 225.00
88 in stock
Product:
Selected for their outstandingly sweet & juicy meat these prawns are firm and flavorful. They are ready to be cooked into a mouth-watering meal in minutes.
These are deveined, head on, shell-on prawns. Approximately 25 prawns in total | 14cm per prawn approximately
Taste:
These prawns are juicy & firm in texture and have a slightly sweet taste. Simply Delicious!
Sustainability:
These prawns are farmed without the use of the harmful chemicals that pollute waterways as well as any antibiotics. They are untreated with any additional chemicals post-harvesting and they have no glaze added to them, all of which is reflected in their taste
Customer Reviews
Write a Review
Ask a Question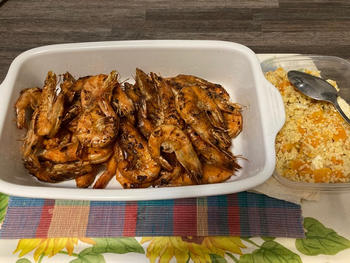 19/04/2021
I recommend this product
Yummy prawns!
I only recently cooked the prawns, but kept them frozen until I used them. They were still, firm and delicious! Will definitely recomend them and buy them again. Lovely thanks!
LISA M.

ZA
11/03/2021
I recommend this product
Great product
Tasty, meaty and very fresh. Well cleaned and de-veined, so very quick and convenient.
Peter H.

ZA
03/03/2021
I recommend this product
Deveined Prawns
Fantastic product and service,highly recommended
Lynette C.

ZA
12/02/2021
I recommend this product
Deveined Pramns
The best, fresh & juicy!!
Michelle C.

ZA
11/02/2021
I recommend this product
Super Yummy
From the ordering, to receiving and then enjoying the prawns - amazing! The prawns are meaty and juicy. The quality is top notch! An excellent service that I will be using all the time!
Bronwyn S.

ZA