Norwegian Salmon Skin On Portion (200g per portion)
Norwegian Salmon is known for its clean fresh-taste, moist flaky meat and bright orange colour. Sourced from an ASC certified Salmon farm in Norway, our best selling Norwegian salmon portions and a staple for your freezer this season. Enjoy 200g of our delicious flash-frozen vacuum-sealed salmon in perfect portions, shipped easily to your doorstep.
Availability: 45 in stock
You will receive a 200g Norwegian Salmon portion
Skin-on, Boneless
Blast frozen
Vacuum Packed
ASC certified
Delivery Info
We delivery in Cape Town, Johannesburg and Pretoria. Delivery times, dates and prices vary from location. Please look at the delivery info page for a more detailed breakdown on these topics.
Your product will delivered in a polystyrene cooler box, which is use commonly in the seafood industry to maintain temperature and more importantly quality. This helps ensure a seamless, cold-chain delivery process.
Sustainability
We source our Salmon from an ASC certified Salmon farm in Norway, by being the most stringent sustainability standard, The Aquaculture Stewardship Council (ASC) standard underpins the cultural tenet sustainability in everything done by the farm. Our Salmon farm avoids the use of antibiotics, achieving record low levels in 2019. Diseases that were previously treated with antibiotics are now treated using vaccines, resulting in the lowest use of antibiotics amongst all sources of protein.
Cooking
These salmon portions are best for grilling, broiling or pan-searing, though they can also be baked in a sauce, great for fast weeknight meals. They can also be used for sashimi if the skin is removed.
Customer Reviews
Write a Review
Ask a Question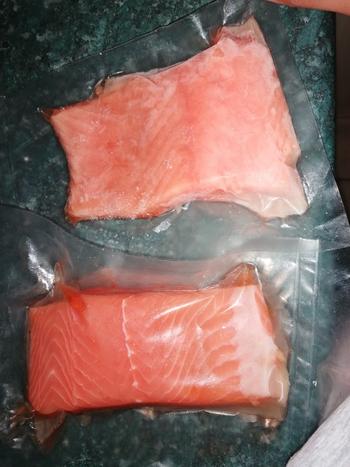 01/02/2021
I recommend this product
So fresh
This salmon was just super fresh and tasty, the one fillet i used for sushi which was delicious, the second fillet i pan seared and it was perfect. Thank you
Clint m.

ZA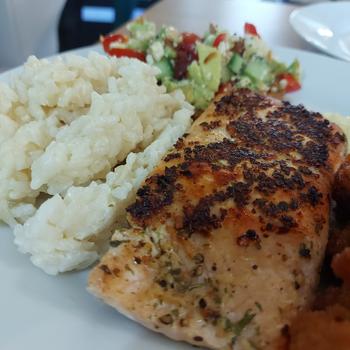 21/11/2020
I recommend this product
Excellent
The quality, portoins size and taste was excellent.
Eloise P.

ZA
20/08/2021
Lungisa M.

ZA
08/08/2021
Soooo tasty!!!
Super tasty and fresh!!! So easy to get that crispy skin! Love the product!!! Buying again for sure!!!
Mandie v.

ZA
08/08/2021
Excellent!!!
Second time buying this product - once again super fresh & tasty!! Definitely buying again!!!
Mandie v.

ZA