Canadian Soles | 5 Pack | (150-180g) per sole | CPT
Our Canadian Soles have beautiful white flesh that's delicate, sweet yet mild. The meat falls right off the bones which makes it especially satisfying and easy to eat. Our soles are pre-dressed, meaning that they have had their skin and fins removed, making them ready to cook hassle-free in minutes. Order 5 Soles, prepared and ready to cook, delivered straight to your door!
Each order will receive a pack of 5 x (150-180g) Soles
Blast frozen 
Pre-dressed (Fins removed, skinless)
Vacuum-packed
Customer Reviews
Write a Review
Ask a Question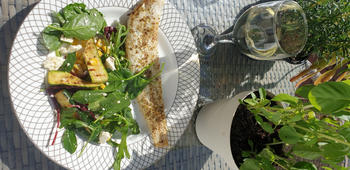 17/11/2020
I recommend this product
Easy & Delicious
I freeze these in individual portions. Take out as needed. They are quick to defrost naturally on the counter and quick to prepare. Nothing like a little butter (ok maybe a lot) with lemon juice, dill, salt & pepper. These are always my go-to's.
Ann O.

ZA
04/12/2021
I recommend this product
Soles
lightly crumbed, seasoned, used the Nomu rub, blobs of butter. Baked in very hot oven 250C, 10 minutes. Delicious. Just wish they were a little plumper. Yes, will definitely order again.
Lynne G.

ZA
01/12/2021
I recommend this product
Fresh
Delicious and fresh, great delivery service
bridget h.

ZA
26/11/2021
Satisfying Soles
Love soles. To me they are the best comfort food. And so easy to prepare. Excellent quality.
Linda S.

ZA
09/11/2021
I recommend this product
Great for a curry
Great. Used it to make a curry
Jude L.

ZA