These Octopus legs are delicious grilled, pickled or poached in its own juices. Caught as bi-catch when fishing for hake, this species is Octopus Magnificus and Octopus Vulgaris, they are a deep water species caught at a depth between 110m and 800m deep. Order a 1kg of octopus legs online today and get it delivered directly to your door
Out of stock
Email when stock available
You will receive a 1kg of Octopus legs
We remove the head and beak
Vacuum Packed
Blast-frozen
Cooking
Defrost before cooking.
The easiest way to cook octopus is by filling a pot with salt water and bring it to the boil. Add the octopus and bring the heat down immediately and let it simmer for 50-60min or until you can poke it with a fork easily. For a better result you can tenderise the octopus and rub with salt in the sink until clean, this will tenderise the meat and take away any excess skin.
Let cool and finish with some good olive oil and lemon juice. Great in a salad or pickled too!
Delivery Info
We delivery in Cape Town, Johannesburg, Durban and Pretoria. Delivery times, dates and prices vary from location. Please look at the delivery info page for a more detailed breakdown on these topics.
Your product will delivered in a polystyrene cooler box, which is use commonly in the seafood industry to maintain temperature and more importantly quality. This helps ensure a seamless, cold-chain delivery process.
Popular Items
Frequently Bought Together
Similar Items
Recent Viewed
Customer Reviews
100
reviewers would recommend this product
Write a Review
Ask a Question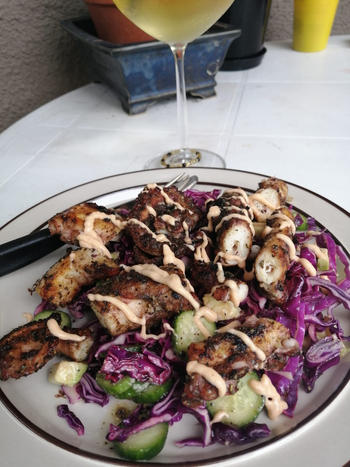 22/06/2022
I recommend this product
Octopus Legs
Experience was excellent! Found recipe where you steam legs and then baste, & grill. Came out perfect and used grilled product in a fresh salad. I purchased again ☺
Waldemar J. Rensburg

ZA
07/02/2022
I recommend this product
Very good quality octopus
Taciana M.

ZA
13/08/2021
I recommend this product
Good quality octopus
Just amazing quality!
Taciana M.

ZA
30/07/2021
I recommend this product
Delicious Octopus
I was experimenting and it turned out wonderfully. Caught Online delivered promptly. The octopus arrives frozen and needs to be cooked in a pressure cooker or slowly in the oven or on the hob before being skinned and then grilled or stewed as in Portugal. Caught Online maintains the cold chain and the fish is top quality. A great way to « catch » your fish!
Margot G.

ZA
04/05/2021
I recommend this product
Octopus
Amazing service! Fantastic quality.
Michelle v.

ZA